Choosing the Right Hardwood for Your Home - Pros and Cons of Solid vs. Engineered
Posted on 1 December 2022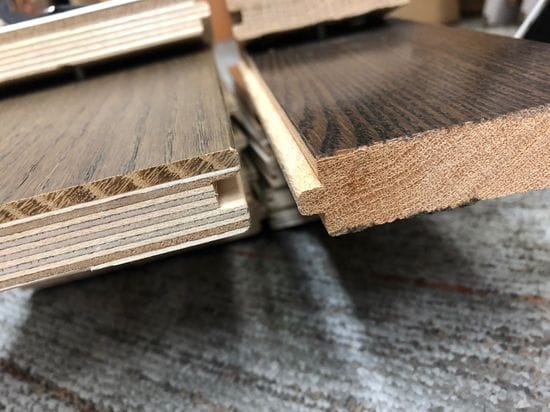 Hardwood - solid or engineered?
Hardwood is an easy way to improve the look, durability and value of your home. One of the most common questions I get asked is "what are the differences between solid hardwood and engineered hardwood - and what should I put in my home?"

Solid Hardwood
Solid wood is usually milled from a single 3/4" thick piece of hardwood. Solid wood flooring expands and contracts with changes in your home's relative humidity. In Southern Ontario, this means gaps in the winter from our furnaces drying or homes and cupping in the summer due to high humidity.
Engineered Hardwood

Engineered Hardwood Flooring is made for high performance and lasting durability. It includes a top layer of your favourite wood species – so yes, it is real hardwood - followed by either multiple layers of wood stacked in a cross-grain configuration or from wood fibers bonded into a high-density fiber board. Engineered hardwood is designed to hold up to the challenges of climate fluctuation and sub-floor moisture much better than traditional solid hardwood. Because of this, engineered hardwood can be installed above, on, or below grade making it a great choice for multiple areas of the home including basements.

Before deciding on Solid or Engineered hardwood flooring, consider these factors:

Size Matters
Looking for those extra-long (Over 5 feet) or extra-wide planks (over 4 ¼") for your home? Engineered hardwood is the only way to go in our climate as it makes the wood more stable – minimizing seasonal gapping and cupping of your new floors.
Location, Location, Location

Traditional solid hardwood flooring is not well suited for below-grade or condominium installations, because of the possibility of moisture issues. The construction of an engineered hardwood gives it enhanced structural stability that allows it to be installed at any grade level when a moisture barrier is used during installation. Engineered hardwood also allows you to have thinner planks and still be stable – so you can match up to your existing flooring without having to use a reducer!

What about re-finishing?
I always get asked about the ability to sand and re-finish both products. Both solid and some engineered (depending on the thickness of the wood surface on the engineered wood) can be sanded and re-finished, BUT both can be done only to the point where the nail enters the tongue and groove - which lies roughly 1/3 of the way from the top of the product in BOTH instances – so this should not be a deciding factor over whether you choose solid or engineered.
My Favourite?
Hands down I would choose engineered over solid hardwood every time. Overall stability in our climate, wider and longer plank choices, and installation in almost every room in the home make it the perfect choice for your upcoming flooring renovation!