Posted on 4 February 2023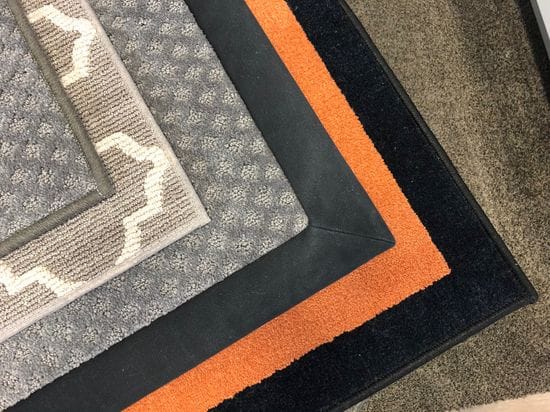 Custom Area Rugs – A great fit for every home!

As a third-generation flooring expert, I have experienced just about every scenario the flooring industry has to offer. One of the most common challenges our clients face is finding an area rug that fits their particular room. The standard size area rugs, such as 5 x 7 or 8 x 10, just doesn't work for their oversized great room, long and narrow townhome, or that unusual curved room or staircase.
One of the best and most spectacular solutions I present to our clients is to make a stunning custom area rug. Custom rugs can be made to absolutely any size, as they use broadloom, so they can be as wide or long as you need.
Think the choice of carpet is limited? Think again. Long gone are the days where carpet was only available in either a solid cut pile or a single loop berber. Today's carpet has some remarkable colours, textures, styles and patterns to suit any décor. Finish it off with your choice of edging, and you create a totally unique look just for your home!
Pattern: Geometrics continue to shine for area carpets including Moroccan patterns, diamond and circles. Traditional homes can look to the wide selection of damask or faded florals for a timeless look.
Texture: Combining multiple textures is on-trend. Using loop and cut piles along with luminous accents creates a three-dimensional look and feel.
Colour: Combining greys, taupe and creams for a subdued feel is a great accent to any room. If you are looking for more "pop", combining neutrals with pastels or jewel tones is a great option.
Edging Options: The most popular choice for edging is serging. It creates a stitched edge look like a traditional area rug. Binding is another popular option. It uses a coloured polyester quarter inch wrap around the edge. This is a great choice for shag rugs where the edging is usually hidden or if you are doing a simple rug and want the most economical option.
Carpet pad: Last, but not least, don't forget your carpet pad if you want to protect your investment, prevent the rug from slipping and create a soft, luxurious feel under foot. These can also be made to your custom size so you don't have to worry about fit.