How to Create a Unique and Striking Feature Wall
Posted on 1 October 2022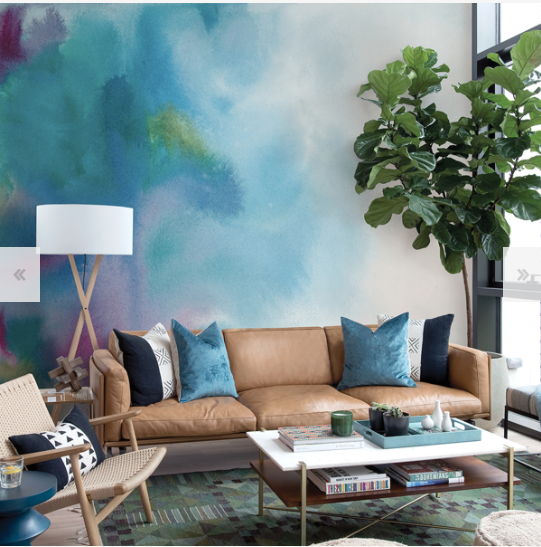 Here at Patti-Lynn we love feature walls! A feature wall is a fun way to add another dimension and create a focal point to any room in your home. They offer a quick and easy way to liven up any space and can be high impact such as a bold colour or pattern or subtle using texture to add just the right amount of interest to a room.
Whether you want a big change or a subtle upgrade, a feature wall could be just the thing you need. Here are some of the do's and don'ts to keep in mind.
Do's and Don'ts

DON'T randomly select a wall to highlight. The feature wall should be used to highlight the room's existing focal point or architectural detail. For instance, the wall where the mantle sits often makes for a great feature wall. The wall behind the headboard in a bedroom is also ideal. The point is that the eye should be drawn to one spot and if the feature wall is anywhere other than the focal area, the eye won't have a place to rest. Let the room's architecture be your guide.
DO make sure that whatever color or pattern you choose harmonizes with the rest of the room. For example, if you have exposed wood beams, perhaps a feature wall of wood will highlight that architectural detail. Choosing a bright or bold colour can also be great, but only if it fits in with the rest of the room. Bold just for the sake of bold is never a good idea.
DON'T put a feature wall in an already over-crowded room. When there's too much going on in a space it can be confusing to the eye and it creates a sense of chaos. A feature wall should be a highlight, so it needs room to breathe.
DO use an accent wall to define a living space. In an open concept home or in multi-use spaces it can be tricky to define areas, but an accent wall can help. For instance, a feature wall to highlight the dining area in a living/dining space can help greatly.
DON'T think that paint and wallpaper are the only options. Feature walls can be created out of materials such as tile, stone, and wood. There are some fantastic easy-to-install options that make great weekend projects!
Whatever you choose, think outside the box and let your passion show. Be selective with your finishes and colours, and your feature wall will revitalize your space and showcase your personality and style!